As promised, this month's journal is an exploration of the polar opposites (figuratively, not geographically) of Picton and New York City.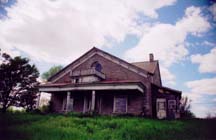 Why would I consider such an odd juxtaposition? Because those were the two places my reading tour took me in June (as well as home in Toronto, of course).
If you're not familiar with Picton, it's the largest settlement in Prince Edward County, an island community that rests against the north shore of Lake Ontario. The area was a stronghold of the United Empire Loyalists who started settling there in the late 1700s after a strong difference of opinion with the Americans.
The community's pride in its heritage is apparent in its pristine old farmhouses, barns and fields. Downtown Picton is brief but lovely. As well as numerous B&Bs, there's the Historic North American Hotel (founded circa 1835), with cream and antique red colouring and flower baskets hanging from
its second-storey porch. Among Picton's other buildings of note is the Regent Theatre, housed in a building also dating to the 1830s. After renovations, it reopened in 1922 as an Edwardian-style opera house with 900 seats. It still operates as a venue for both live theatre and movies, although the number of seats has (fortunately) been halved.
On my last day in the county, I took a quickie driving tour with my camera and journal. I started in Bloomfield (where I had the pleasure of staying with a former teacher of mine), drove east, took a detour to see the old army barracks (still sometimes used for film shoots), then took the road up to Lake on the Mountain (which is just odd), stopped at the Black River Cheese Factory (newly reopened from the fire last fall), made a failed attempt at finding the pebble beach at Little Bluff (and was very glad I'd paid for the extra chip and scratch insurance on the rental car), drove back through Picton (it really is very pretty), made a quick tour to the entrance of Sandbanks Provincial Park (but decided to wait until sometime when I have time to do it justice), came back through Bloomfield, continued on to Wellington for a brief stop (thanks for the cup of tea, Mac) and then headed north until I hit the old number 2 highway and came home.
On my trip through this pastoral landscape, I saw roadside signs for deer crossings, cattle crossings, and in one instance, a cat crossing (they're very civilized here). And of course, the lilacs were in bloom and they were everywhere! Lilac bushes that must have been planted by early residents two-hundred years ago have spread, grown tall and (if such a thing is possible for a lilac) gone feral. They dwarf the walls of abandoned houses and the air is thick with their fragrance. I was given some blooms to bring home and I enjoyed their scent in the car all the way.
Less than a week later, I was on the (mostly empty) train heading to New York. The train runs down the Hudson River valley, crossing and uncrossing the river and running along its bank with the wild white and purple phlox. After sunset, after the long dark ride through the under-river tunnel, I emerged suddenly somehow in the city.
Although I've been to New York before, I'd never gone alone, with my own unadulterated agenda. First I took a walk up to 43rd to ogle at the glorious lustre of the Chrysler Building, continued along to see Grand Central Station (outside and in), the New York Public Library (closed on a Sunday; probably a good thing or I wouldn't have seen anything else), through the lights and flash of Times Square, down Broadway to see the Flatiron Building at 23rd and then back to the hotel.
The following day I walked down Christopher Street, through the Village to West where I followed the coast of the Hudson south until I stumbled across Ground Zero. I hadn't planned on visiting the site but 9/11 is such a part of New York consciousness, it's hard to avoid. There's only flat rubble-strewn ground there now but the impact of seeing it gave me that hoof to the
stomach feeling. Makeshift memorials have sprung up in sometimes unexpected places all over lower Manhattan. Three subway stops remain closed and a surprisingly large number of blocks are still cordoned off nine months later. Even being right there, I found it difficult to comprehend the magnitude of this event; not much wonder New Yorkers are still struggling with it. I stopped for a rest by the Hudson and noticed I was the only one bothering to look up when the helicopters trailed by every few minutes, and wondered if I was the only one noticing, even now, the occasional waft of burnt in the air.
I continued walking south around the tip of the island into Battery Park. What was once the entry point for new immigrants, now seems a mass of statuary, hucksters and mimes. Hard to tell what Lady Liberty thinks of that. I started walking up along the East River and found the South Seaport and the Fulton Fish Market. The guide book said you could find it by following your nose and it was right! I then walked over the Brooklyn Bridge, enjoying the architecture and the view, walking back just as the sun was setting over Manhattan and the city was lighting up for the night.
The next day I treated myself to a browse through the Metropolitan Museum of Art. I walked through the Modern and Annenberg Impressionist collections, an overwhelming assortment of Degas, Cézanne, Sisley, Caillebotte, Chagall, Monet, Manet, Van Gogh, Seurat, Picasso, Lautrec and a few others. I noticed not all the Van Gogh's had been hung in the same room; if they were, they'd probably spontaneously ignite from the sheer intensity of energy and vibrancy of colour. They hadn't mounted all the Monet's in the same room either; his work glows in such a fluid way that viewers would be lulled into a complete state of calm and they'd never leave.
When I'd galleried myself out, I stepped into Central Park and walked some more, enjoying watching kids play, the statues, the bridges and the trees. It really is an oasis but Manhattan has a large population on a limited piece of land and that's very apparent, even in Central Park. With strains of Simon & Garfunkel running through my head, I went to the zoo, now the NatureConservancy.
And there's so much more. I stopped by the Center for Book Arts
and The Poets House. Went to the Upper West Side for brunch and a look around, wandered the Village and Central Park some more. With Marianne Faithful hoarse in my ear, I took a walk around Times Square at night. This city just doesn't stop. The New York Central Library and the Met alone would take two lifetimes to explore. Manhattan has done a lot of things right and it was a real joy to be there.
Ultimately, do I find any commonalities between Picton and New York? Yes. With most places I visit, I leave feeling satiated, like I've done them and I don't need to return. Both Picton and New York are places I want to go back to, but for very different reasons: Picton for its quiet light and New York for its culture.
©Catherine Jenkins 2003