Black Friday, the American phenomenon of greatly slashed prices just after the holiday celebrating the Giving of Thanks, has come to Canada. Fortunately, we do seem to be somewhat more civilized than some of our neighbours to the south. News coverage of the Eaton Centre, which opened its doors at six in the morning for the big event, showed a few dozen empty-handed people sauntering through nearly empty mall space. Meanwhile, in the great US of A, thousands of people breached store entrances before they were fully opened, grabbing stock from shelves, pummelling each other, being forcibly subdued by security, and scrambling for goods as if it was world's end. But we're not talking food here; we're not talking about the necessities of life. We're talking electronics, TVs and games; that fifth pair of boots or twelfth pair of shoes; that fiftieth towel or toy.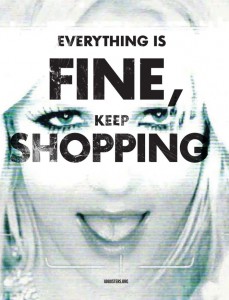 Marking the beginning of holiday buying, 'tis indeed the season for conspicuous consumption, and a day I prefer to avoid stores.
In some jurisdictions, the day also marks Buy Nothing Day (BND), conceived by Vancouver comic artist Ted Dave "To return the purchasing power of the marketplace to the consumer." The notion was subsequently promoted by Ad Busters magazine, with events like a Zombie Walk, in which "The cheerful dead wander around malls, marveling at the blank, comatose expressions on the faces of shoppers" and Whirl Mart, in which "You and nine of your closest friends silently drive your shopping carts around in a long, inexplicable conga line without ever actually buying anything." In 2011, Adbusters Media Foundation's production manager, Lauren Bercovitch, started the Occupy Christmas movement, encouraging people to rethink their consumer habits to consider "Being ecologically aware, socially aware, culturally aware, environmentally aware…"
Choosing to participate in BND or to Occupy Christmas doesn't mean becoming a Scrooge or the Grinch; this is, after all, and regardless of religious affiliation, a season of giving and celebration. Occupying Christmas means thinking about choice, rather than engaging blindly in consumerism, and that might still mean going to the mall for the latest Xbox release, but it doesn't have to.
For me, it means making gifts. Sometimes I've made food items, like baked goods or homemade soups and sauces. This year, I'm trying my hand at hand soaps and bath bombs. Although I don't have a lot of free time right now, I've started working on a sweater for my little nephew; knitting is quietly meditative on these long evenings and something it's easy to pick up and put down as time allows. I may also buy some locally crafted items (I have a lot of crafty friends). The one place I do spend money this season is on charitable donations made in family members' names. This is my way of recognizing that, although it's fun to give and get presents, most of us lead pretty privileged lives and don't really need very much. For me, this is a season of quiet reflection and celebrating with friends—things money can't buy.
© Catherine Jenkins 2013