While there's no doubt that Florence is a heavily touristed destination (Ciao. Selfie stick?), it's still an exceptional city. I had my first taste last fall, and this is the first chance I've had to write about it.
Florence's most recognizable attraction is the Duomo di Firenze, also known as the Cattedrale di Santa Maria del Fiore (Saint Mary of the Flower).
Although I'd seen dozens of photographs, I wasn't prepared for the shear magnitude of this building, nor its architectural intricacy. It seems to have its own gravitational pull; no matter where you are or where you're walking, somehow one always ends up on a path around this monumental structure.
I tend to do a lot of walking when I'm travelling, and so I tend to focus on architecture; however, on this trip I also spent time in galleries I've been wanting to see my whole life: the Uffizi and the Bargello.
The Uffizi contains paintings that are familiar to most, even if one has never travelled to Florence; the Bargello contains statues I remember from my high school art history text. It's a good idea to get tickets in advance, as these galleries attract crowds, especially during tourist season.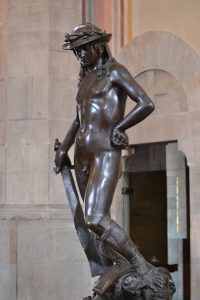 In the Piazza della Signoria, near the Uffizi entrance, is the Loggia della Signoria, containing numerous amazing statues. It's best to go early to allow entrance into this free outdoor exhibit. This is also the square where Girolamo Savonarola held his bonfires of the vanities, burning books and other apparently sinful objects. It's also where he himself was thoroughly executed in 1498.
Michelangelo's David is synonymous with Florence. A copy of the original stands on top of the hill in the Piazzale Michelangelo, affording views of Florence from the less touristy side of the Arno. Another copy is situated outside the Palazzo Vecchio in the statue's original position, near the Uffuzi. The original in the dell'Accademia is worth the effort to see (although beyond the Michelangelo gallery, I found little else of interest). The level of detail is exquisite and compelling.
I loved Florence, in spite of the tourists. I went in the fall, off peak season, so I can't imagine what it would be like in the summer.
©Catherine Jenkins 2018 all rights reserved